Messrs Garrett & Butler aka Crazy9
It all started with a dream
The desire of owning a mobile crazy golf course had been in Pete's mind for many years however the decision to build Crazy9 started at a family party one summer day in 2017. Pete was explaining to his cousin the idea of a mobile crazy golf course that could pop up at weddings or corporate events whenever and wherever it was needed. This created such a positive response from Pete's cousin that it motivated him to put more thought, sketches and research into the idea.
Christmas came and went and Pete finally found his workshop studio space on the top floor of an old cotton mill near Manchester. Working on designs, prototypes, learning ball dynamics (go figure!!) he found it was surprisingly more technical than first impressions would suggest. The first months were …..interesting….February in a freezing cold mill…..(outside always seemed warmer!).
The 9 sets of bases were created along with the 9 features, latex molds made to cast details to adorn the wedding cake, curved plywood was laminated to create smooth rolling 'hilly' holes. Philip was busy making our vintage outfits, he's a demon on a sewing machine, whilst creating the more technological holes. We still needed a name, we had hundreds of possibilities from 'Tweedle Tee' through to 'Who's your Caddy?'. Then came the marketing layer, websites, magazines, business cards, the business look and positioning…..oh my word our heads hurt. But here we are, we made it without compromise to our desire to create the most interesting, beautiful, fun mobile adventure golf course on the planet , heck we even give the fixed site courses a run for their money.
A Passion For Entertaining combined with a love for Crazy Golf
Pete qualified with a degree in 3D design, worked in the leisure industry designing bars, restaurants, cinemas. He then opened his own art gallery, whilst painting murals and creative effects in bars and clubs in the North East region.
Pete then moved to Cheshire and built a 3D prop and painting company supplying the leisure industry, only to move again over to the USA. He landed a plum job in the architectural firm of JGA in Detroit which specialised in retail design.
A very happy 4 years later the boys jointly decided to move to Greece. See Philip bio….and replace words like clever, technical and engineer with arty, designer etc.
Pete is also one hot shot portrait sculptor, bloody good carpenter and currently holds the course record of 16 jointly with Mark from Runaway brewery , Manchester.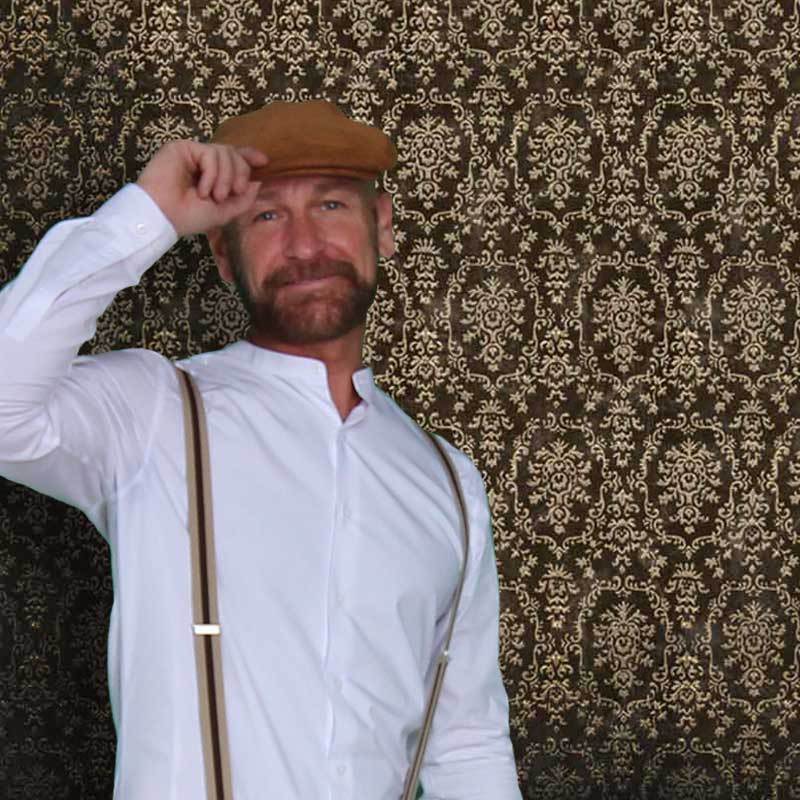 Philip is just an all round nice guy. He loves entertaining and takes his pleasure from creating that wow moment for others. Even our movie nights eventually turned into themed evenings of hors d'oeuvres, roulette table, formal cocktail attire for that latest Bond film!!
He started out as an apprentice at Rolls-Royce Bentley moving into the area of software mechanical integration. He developed to be a project manager for custom and one off Bentleys and was liaison with the American company ASC, a soft-top, sunroof and show-car producer. So good was he that ASC grabbed him for their own, off to sunny Detroit he went to be the best project manager of show cars and concept cars they had ever had.
So what next??….After 4 years of go!go!go!go!…(bless the yanks for their desperate need to work!) …The boys decided to head for new pastures. 'Let's move to Greece' …'I second that'….so we moved to the beautiful island of Samos.
Long story short, we renovated an old crumbling Ottoman house into a really cool modern/old home. And then sold it. NEXT!…. renovated a few more houses in the UK…. did an amazing million pound refurb on a 17th century town house in Spitalfields, London whist also building a successful website design business.
Add to all this Philip is a top notch plumber, electrician, tiler, joiner and bloody good baker . (But we didn't need those skills)….he is also and amazing electro mechanical, software programming and electronics engineer, with a love of automata….. So they came in handy.