We are thrilled to announce that our mobile crazy golf course has won the 2023 Hitched Wedding Awards for Best Wedding Entertainment! This is an incredible achievement and we couldn't be more excited.
Our mobile crazy golf course is designed to bring a fun and unique experience to weddings and events. We understand that planning a wedding can be stressful and we want to make sure that our clients and their guests have a great time on their special day. Our crazy golf course is a great way to keep guests entertained and engaged throughout the evening.
We put our hearts and souls into every wedding
We are proud to have been recognised by the Hitched Wedding Awards as the best in the business. This award is a testament to the hard work and dedication of our team, who put their hearts and souls into creating a top-quality product that is sure to impress. We are delighted to have been chosen as the winner among so many talented and innovative companies in the wedding entertainment industry.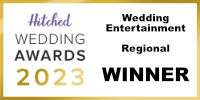 Our mobile crazy golf course is a truly unique and exciting experience that will keep guests entertained for hours. We use high-quality materials and state-of-the-art technology to create a course that is both challenging and fun. The course is fully customisable and can be tailored to suit the theme and style of any event.
We are excited to continue to bring our mobile crazy golf course to weddings and events all over the country. We are proud to be a part of so many special moments and we look forward to providing even more couples and their guests with a truly unforgettable experience. Thank you to the Hitched Wedding Awards for this incredible recognition and we look forward to continuing to provide top-notch entertainment to our clients.
A Huge THANK YOU to our AMAZING Brides & Grooms
Of course we couldn't have won the award without the support and recognition given by our amazing brides and grooms who took the time to vote for us. We are incredibly proud of the positive feedback we receive from our clients. Many of them have shared how our entertainment played a significant role in making their big day truly special and memorable. It's an honour to be a part of such a significant event in our clients' lives, and we take great care in ensuring that everything runs smoothly and seamlessly.