Winter weddings are becoming more popular and finding winter wedding entertainment ideas to keep everyone entertained throughout the day, not just for 5 minutes can be tricky at best.
Wedding venues often have a lot more availability for winter weddings making it easier to plan your special day at short notice but finding indoor Winter Wedding Entertainment Ideas that are suitable for all your guests can be difficult to to find.
That's where Crazy9's wedding themed mobile crazy golf course comes into play as it's ideal for setting up indoor and it's suitable for all ages from 9 to 99 (and beyond).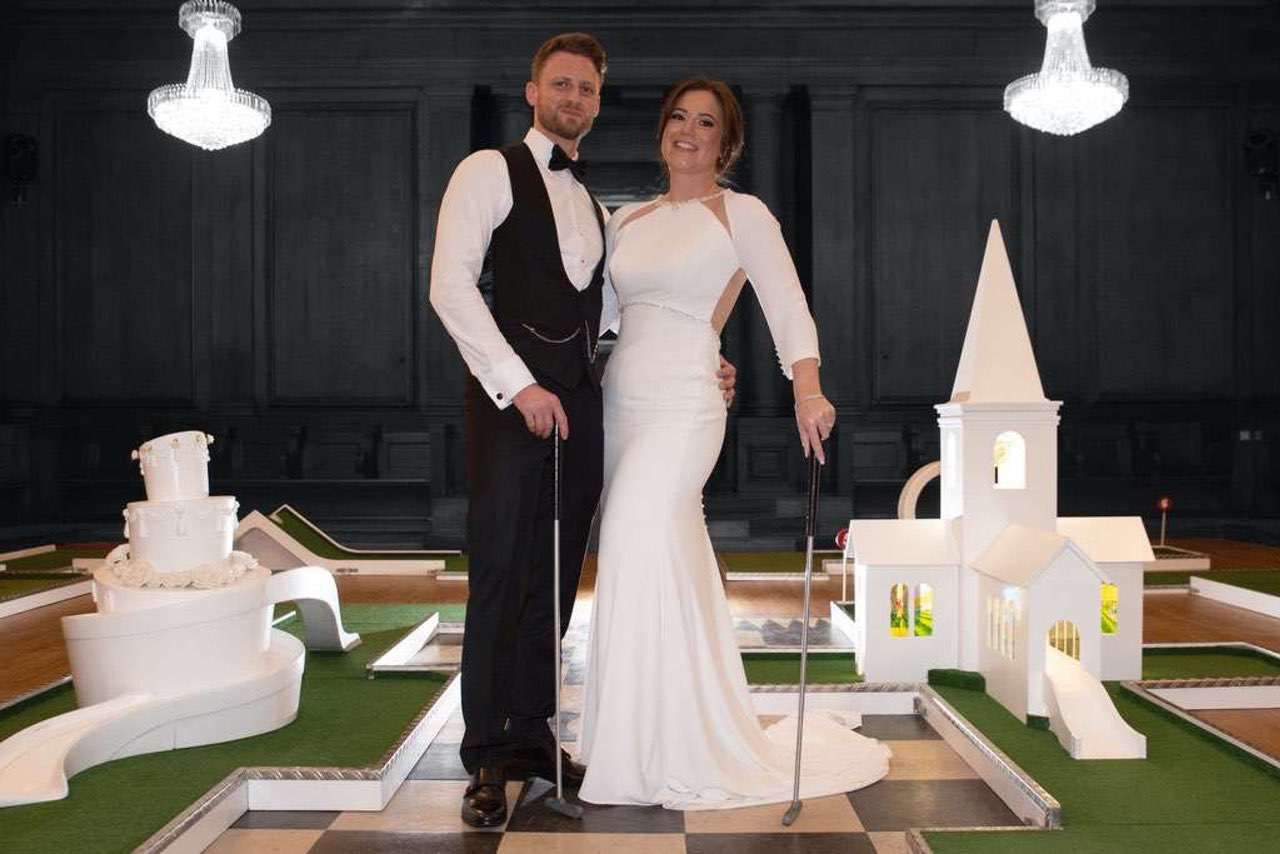 Over the past 12 months or so we've set up the mobile crazy golf course indoors in over 20 venues without a hitch. Many venues are Grade II listed and even one Grade I; regardless we treat all venues the same. We take great care transporting the course in and out of the venue so as not to damage walls, doors or door frames. The underside of the crazy golf course is flat and smooth and works well when set up on carpet, floor boards or solid floors (tiles/concrete/stone). We use 'Low Bounce' crazy golf balls that (as the name suggests) don't bounce as much or travel as far as regular golf balls. We ALWAYS ensure that the crazy golf holes are directed away from breakable surfaces such as windows and mirrors etc.
As a part of the wedding and event team here at Inglewood Manor, personally I cannot recommend Crazy 9 enough! The team is professional yet personable when it comes to being part of an event. We have had them here for weddings, corporate events and our own weddings fayres / open days. Their set-up is very manageable and they take great care when here at Inglewood. The course can be set-up inside or outside which is great for us as we have the space for both which gives our couples the option to choose, especially when it comes to winter weddings! Overall, it's a great team with a great product to use no matter what time of year and flexible around the space available

Abigail Lee – Inglewood Manor
Past Winter Wedding Entertainment Ideas