First and foremost we hope that you and yours are well and managing to keep out of harm's way.
We wanted to bring you up to speed with what we are doing with regards to helping you reschedule your wedding day.  Be rest assured that we are bending over backwards to help and accommodate postponed events wherever possible at no extra cost to our clients.
First, let's get the legal stuff out of the way and review the contract that you agreed to when making the booking with us, in particular Section 5.0 Cancellation and Section 6.0 Force Majeure.  Our cancellation policy is quite clear with defined periods of time and financial responsibilities of both parties. Thankfully our Force Majeure clause includes 'epidemic' as an extenuating circumstance that is out of everyone's control and as such, relinquishes both parties from any financial and contractual obligation. So Force Majeure takes precedence over the cancellation clause. Without this the contract would be 'frustrated' and neither of us want to go down that route.
At the time of writing the contract we never really considered the scenario of a client wishing to postpone their wedding date once it had been finalised and as such do not have a postponement policy (we do now but that only applies to new bookings).  Without a postponement clause, the Cancellation and Force Majeure clauses take precedence. HOWEVER, both Pete & I are decent blokes and are bending over backwards to postpone where possible our clients wedding dates with no additional charge to them.
Contractually the final balance is due 60 days prior to the event.  If you should postpone before that date and we are available, then no additional charge will be incurred and we will postpone your booking date.  If we are not available then it will either be classed as a cancellation or a force majeure and we would retain the holding deposit to cover our expenses.
Should you wish to postpone AFTER you've paid the final balance then assuming we are available we would simply change the booking date and the existing contract would continue.  If we should not be available (and this is where us being decent blokes really comes into play) then we will refund you the final balance amount and retain the deposit to cover our expenses.
Take the Stress out of rescheduling your suppliers.
we are recommending to all of our clients to make use of a website called
doodle.com
  (and no, we're not on commission or shareholders ;-).  It will reduce the stress of trying to find a common date between all your suppliers and it's free to use! Once you have alternative dates from your venue and key suppliers such as the registrar, then just go to
doodle.com
 and click on the top right button 'Create a Doodle'
Step 1 of 4 enter the title ie "Pete & Philips rescheduled wedding" and click continue.
Step 2 of 4 click the 'month' view and select all the available dates that your venue has to offer then click continue.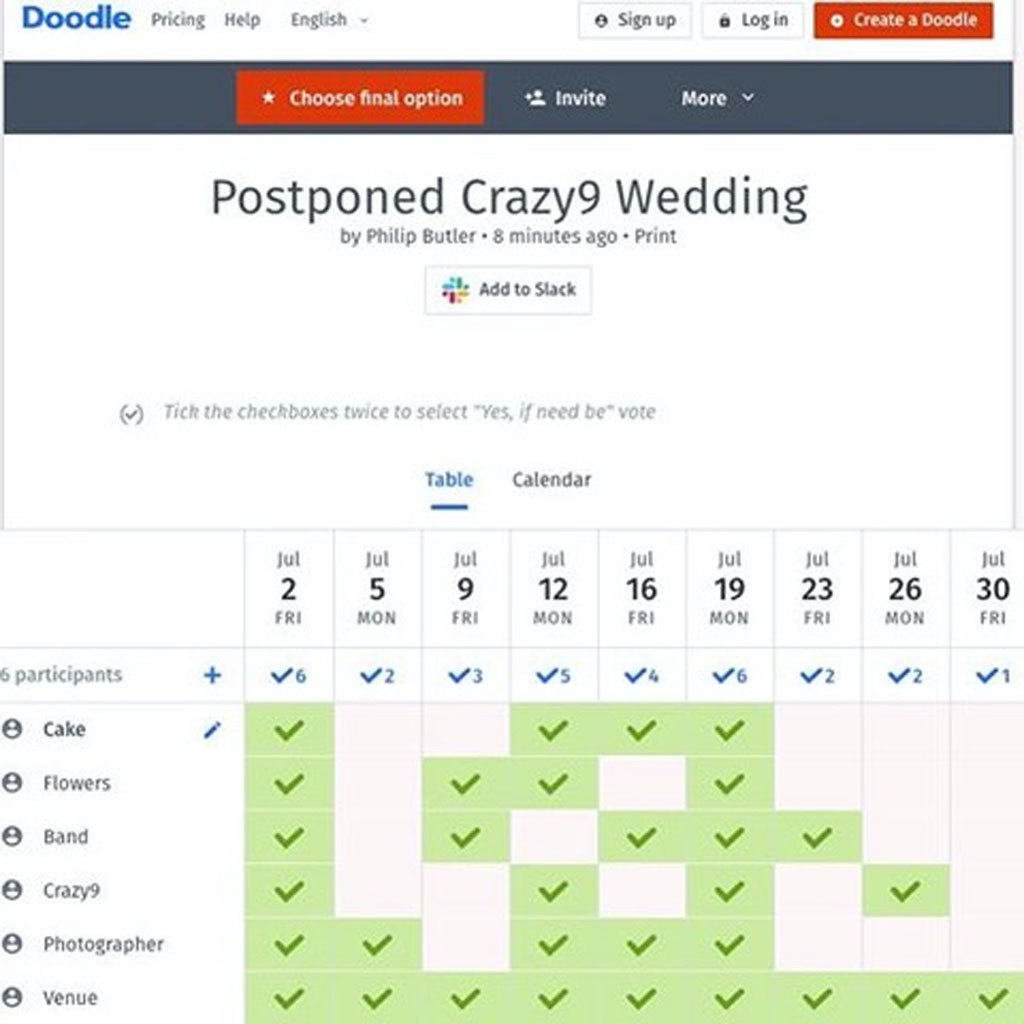 Step 3 of 4 poll setting- don't need to do anything here, just click continue
Step 4 of 4 enter your name and email address  and click Finish. (you'll be sent an email confirming the poll and a link to view the poll).
On the 'Invite Participants' page click the 'link' button,  copy the link and send it to your suppliers. They can enter their name/company name and check the available dates. You'll soon be able to see which is the best date for everyone!
Sunny days will be back again soon.  That's not a promise, just a mindset.