Make you mobile crazy golf package extra spacial by adding items from our à la golf carte menu. The list is ever growing!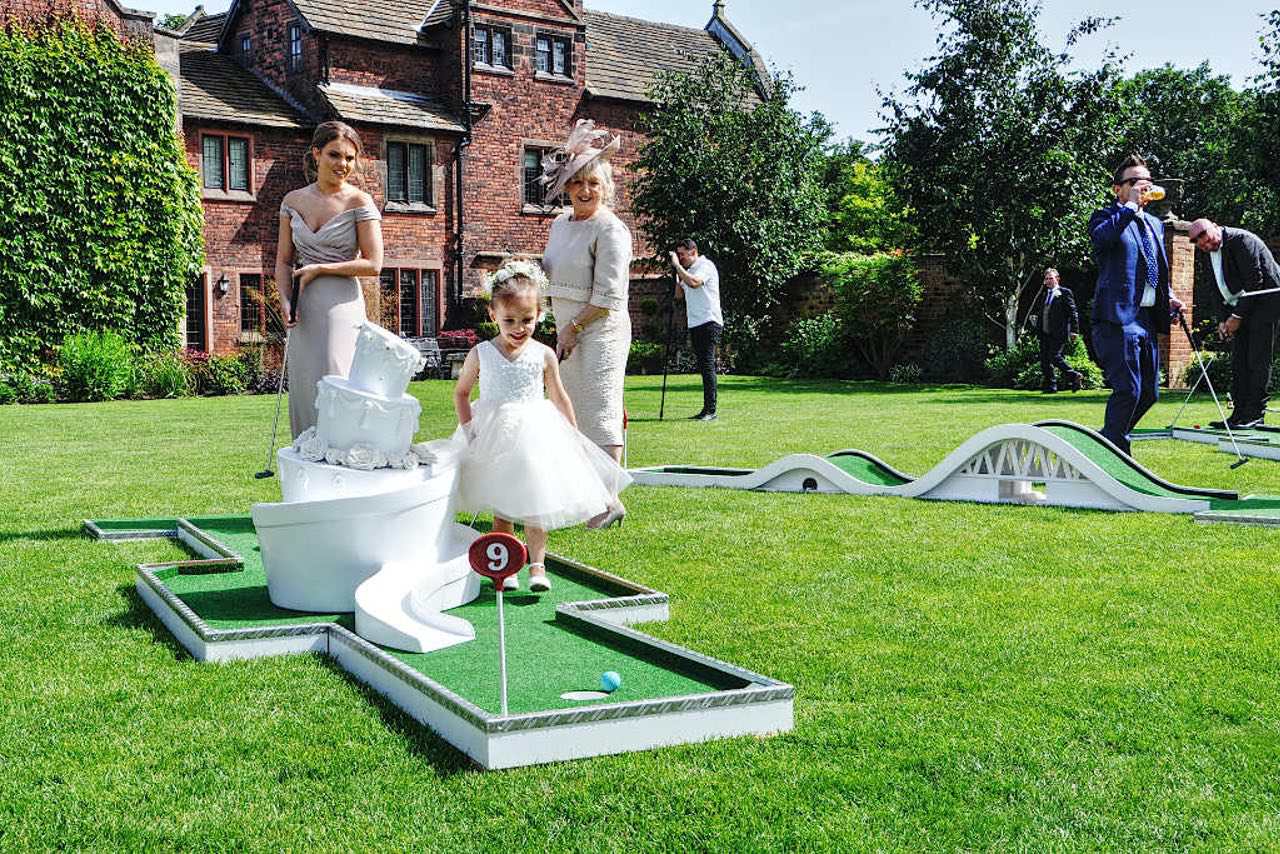 £70
Additional Signature Holes
Do you want to upgrade the course to include more signature holes? No problem! Just let us know how many additional signature holes you'd like adding and we can tailor the package to your requirements. Please note that each additional signature hole will replace one of the standard holes on the 9 hole course.
It's a well known fact that when playing crazy golf, it always starts off as being fun and always ends up being competitive. That's why we've got the Crazy9 Leader Board to keep a tab on who's got the highest score (and who's got the lowest one).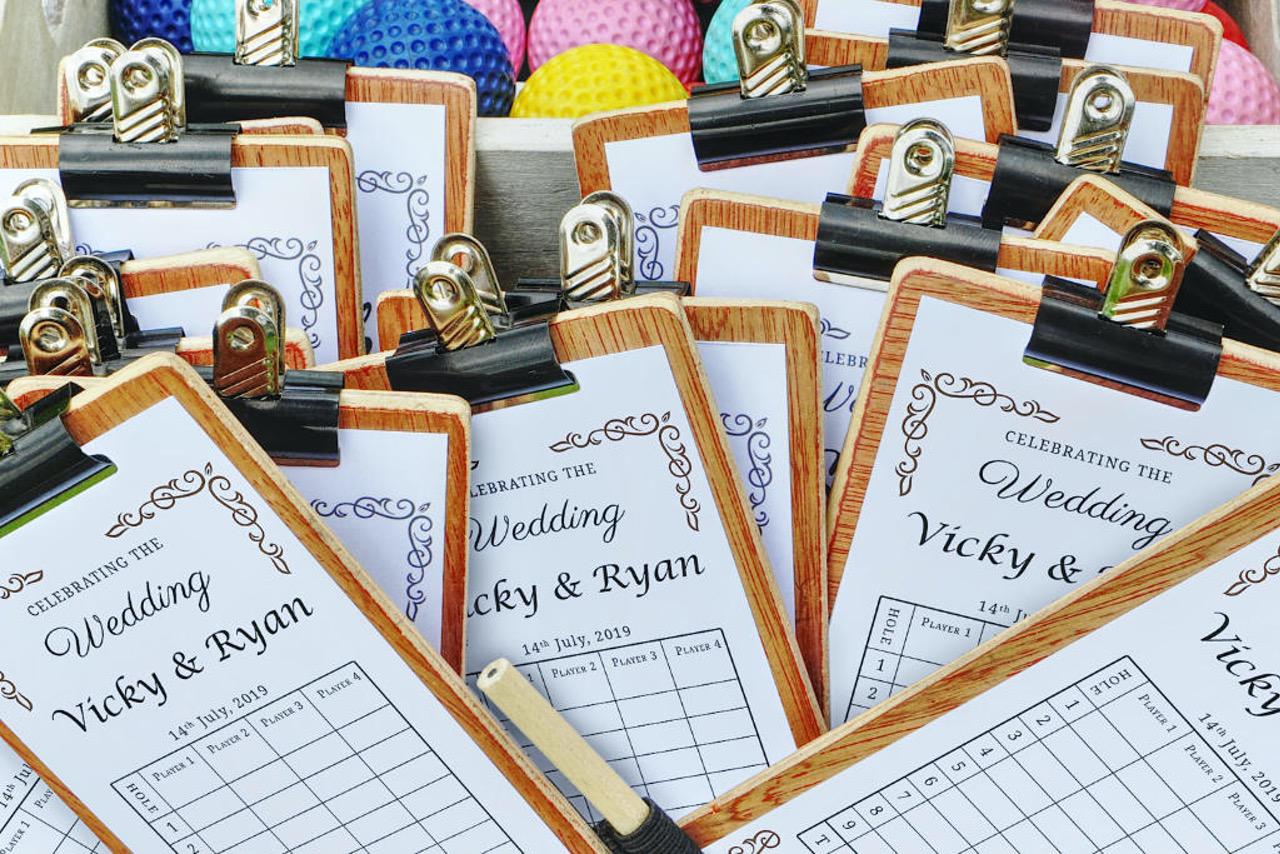 Make your wedding day or corporate event extra special with our bespoke score cards. We'll print 60 score cards with the wedding couple's names and date of the marriage or the corporate logo on the score cards for your guests to keep as souvenirs.
£40
Customised Welcome Board
Greet your guest and invite them to play a round of crazy golf with a customised welcome board.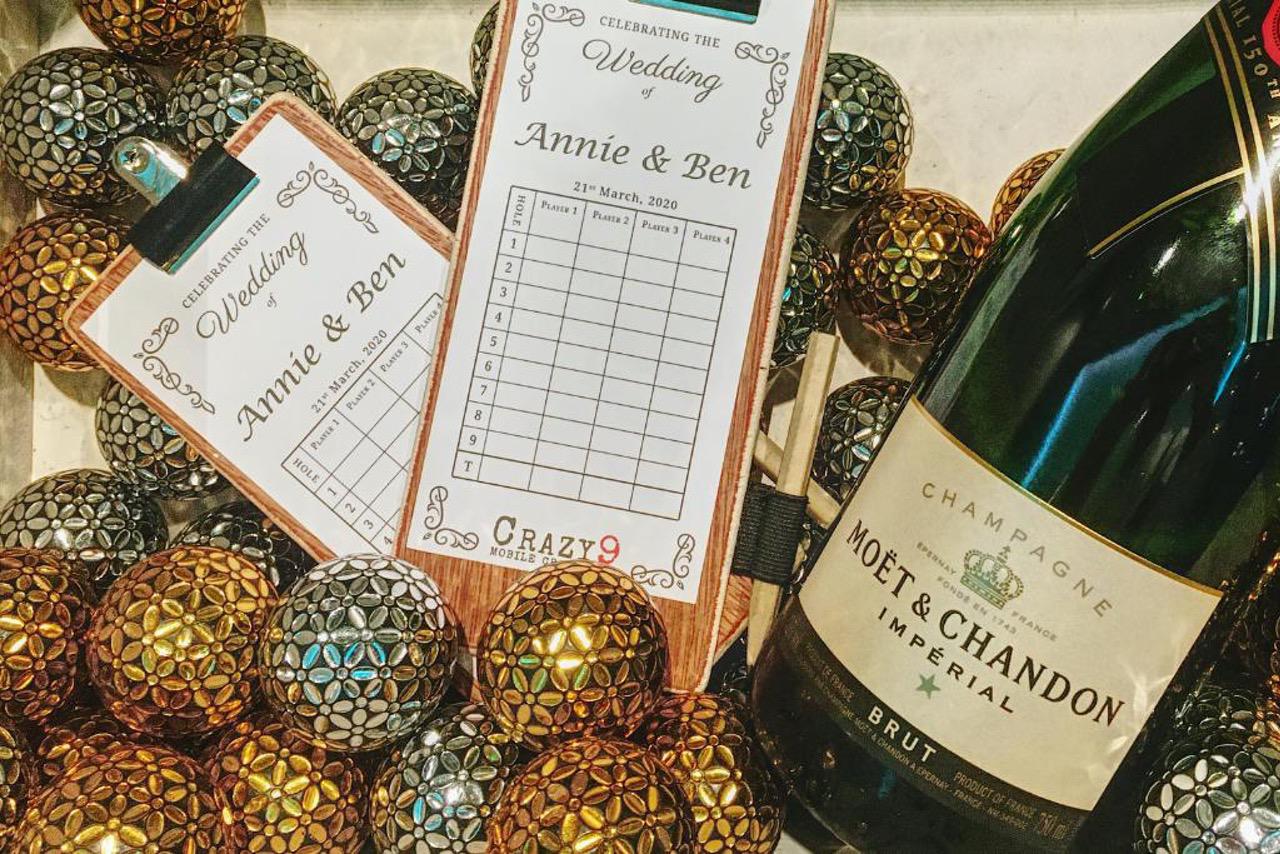 Add a touch of sparkle to your entertainment with these gold and silver glitter balls. Each team of 4 will have a gold, black, silver & white ball. We'll leave you to decide who has which. (Champagne not included 😉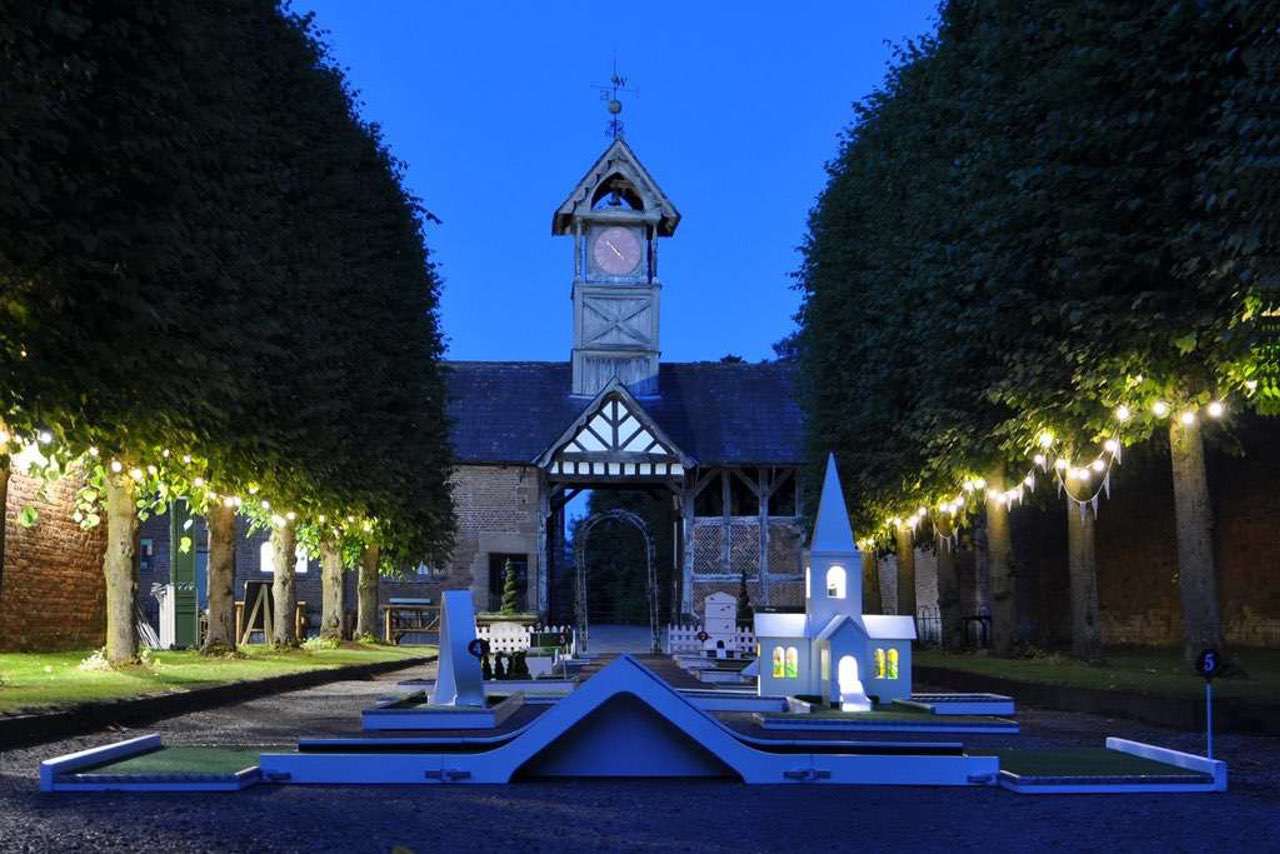 Add a little sparkle and ambience to your wedding entertainment with our festoon lights which can be hung from nearby trees and bushes or on the the poles that we carry with us.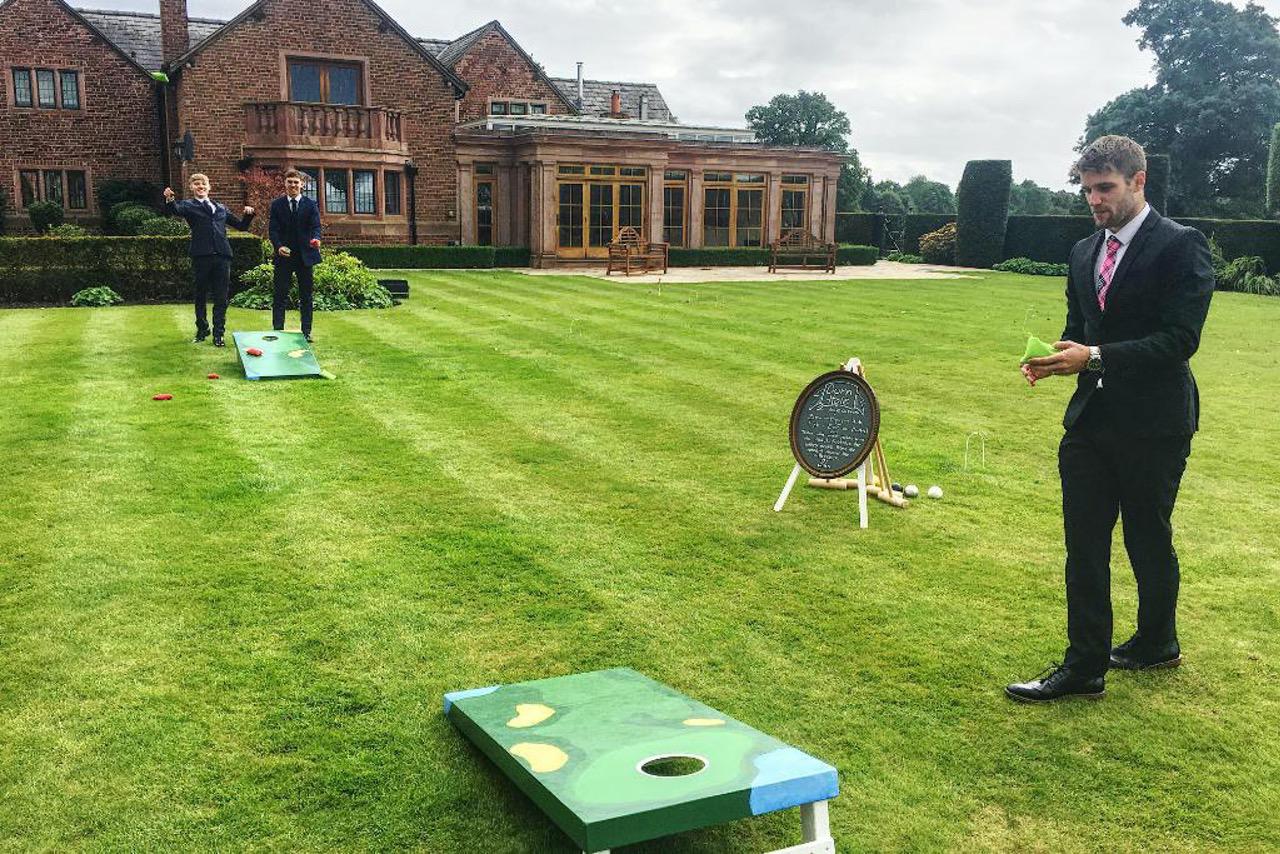 This is an American back yard game that is becoming very popular in the UK. Players take turns throwing bags of corn at a raised platform with a hole in the far end. A bag in the hole scores 3 points, while one on the board scores 1 point. Play continues until a team or player reaches or exceeds the score of 21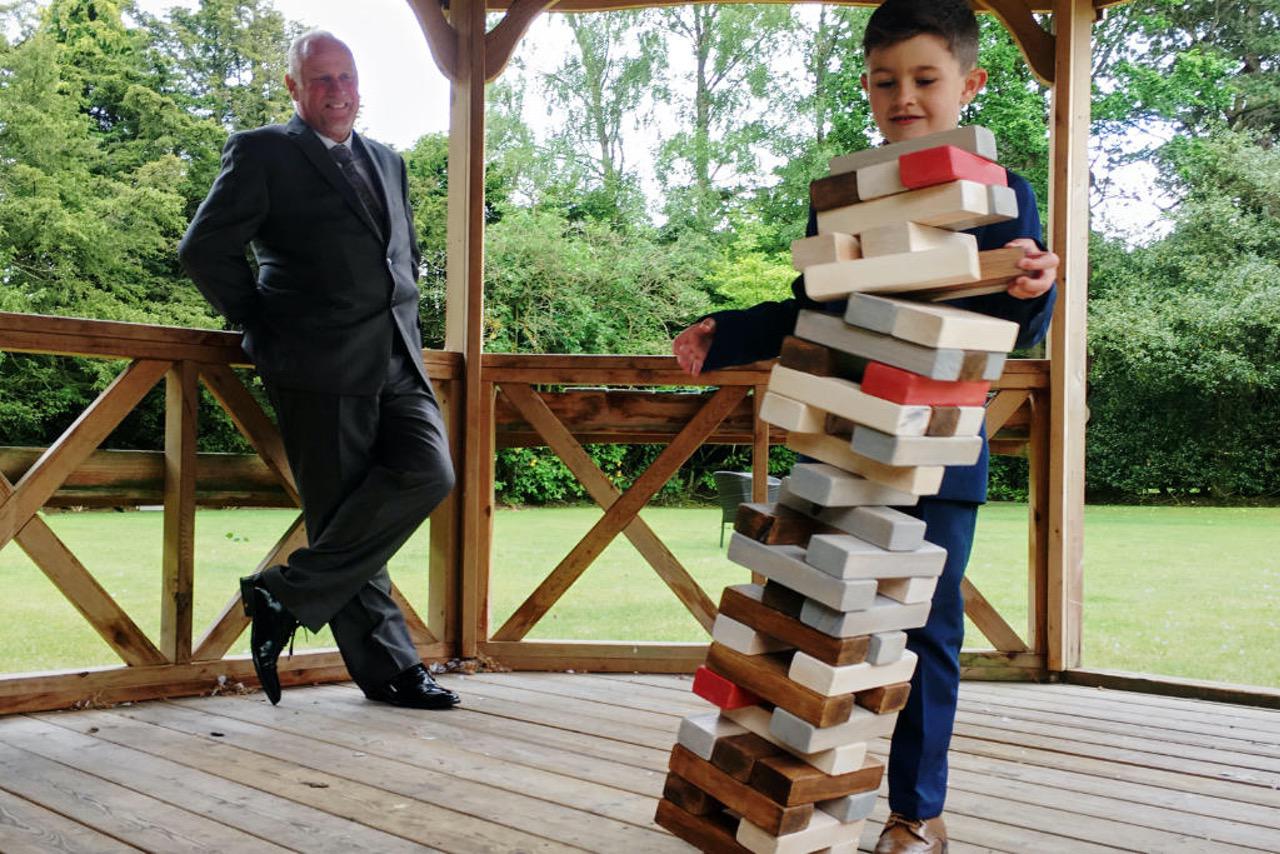 £30
Giant 'Jenga' Style Blocks
A larger version of the classic building block game.
£295
Corporate Branding Package
Our Corporate Branding Package includes the following items:-

Company name/logo on the welcome board (white vinyl), Company name/logo on leader board (colour print), Bespoke score cards (colour print), Castle flag (colour print), Company name/logo on sails of windmill (colour print)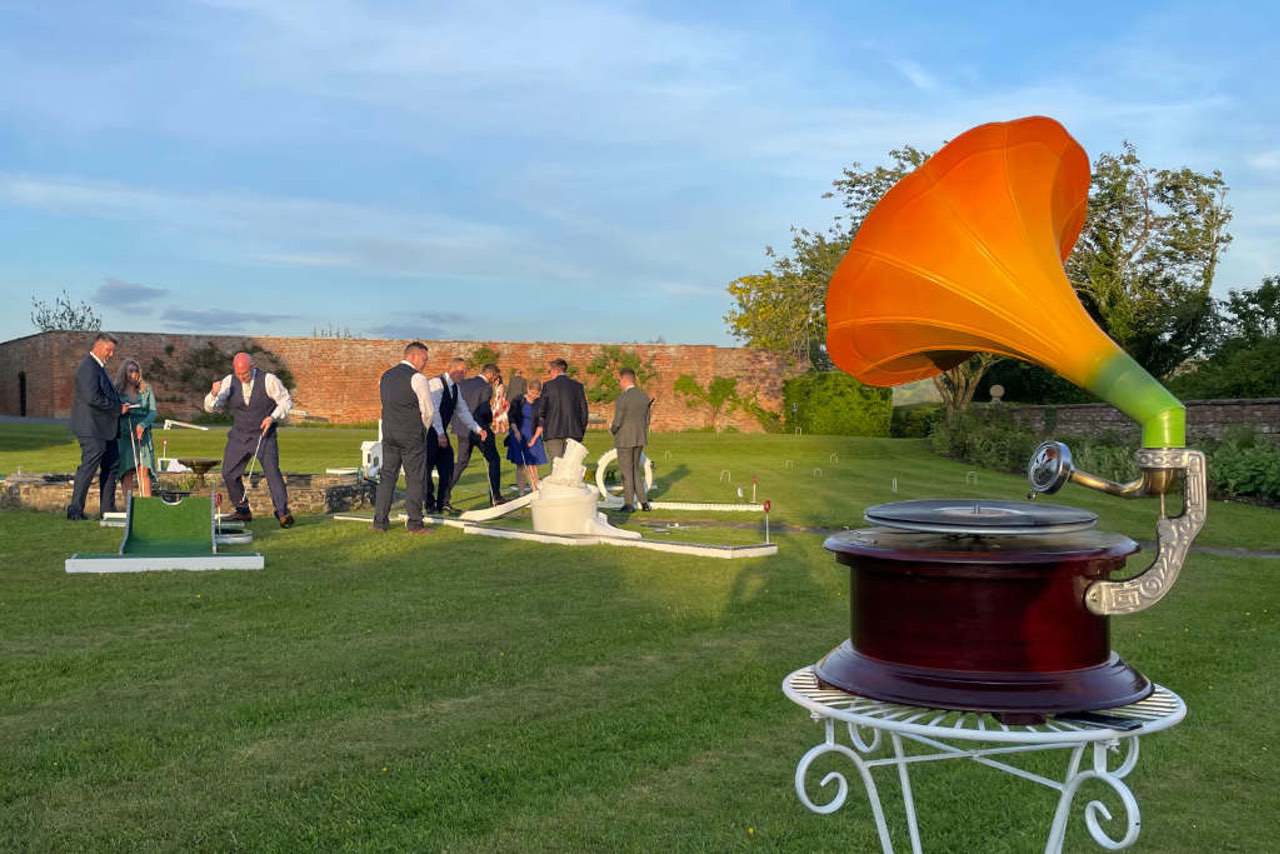 £45
Gramophone 1920's music
Looking to add a bit of background music to your outdoor entertainment? We've taken a clockwork vintage gramophone and converted it into a bluetooth speaker. We've carefully selected an upbeat 1920's playlist that will have your guests tapping their toes whilst they're playing on the course.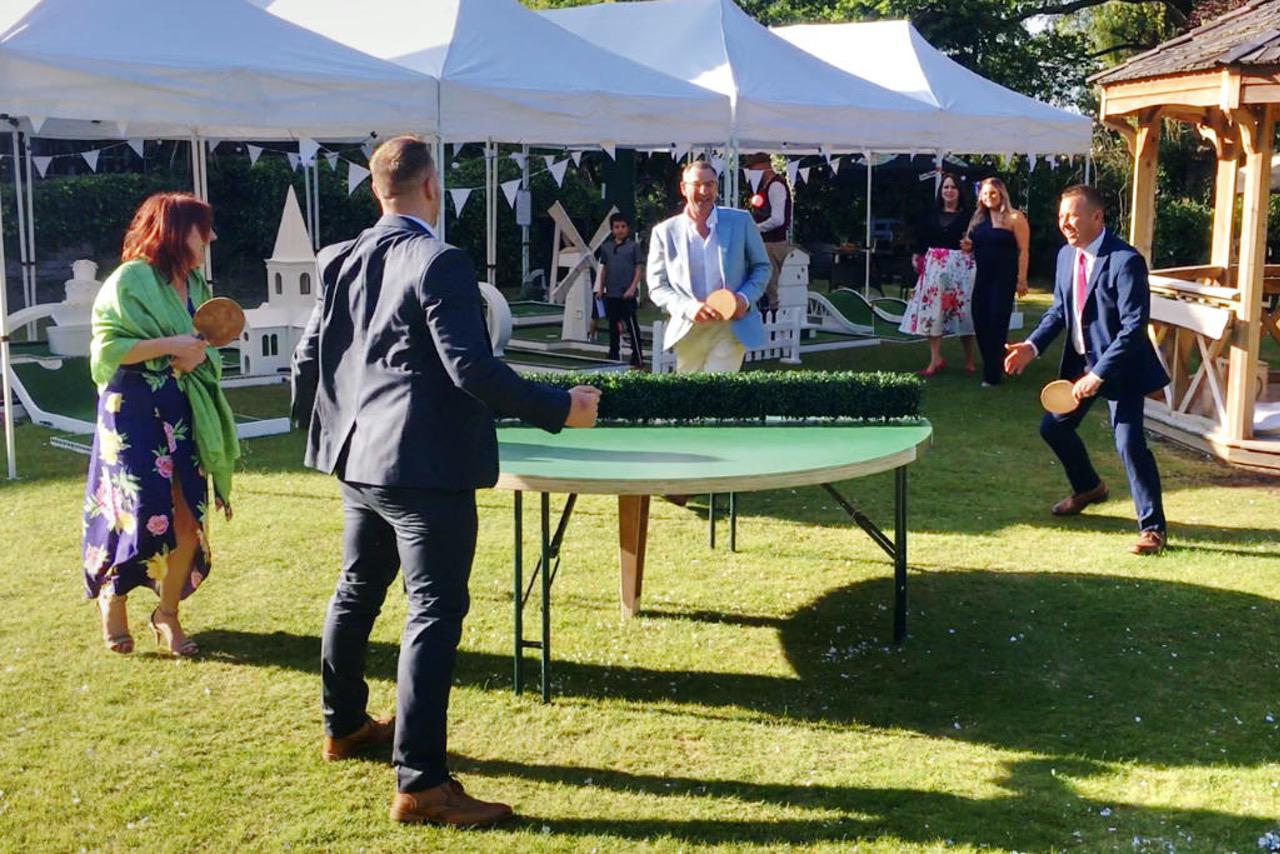 £60
Revolving Round Table Tennis
Sounds crAzY right? Well we thought so too and to be honest we were unsure how it would be received. How could we have doubted ourselves, it's a HUGE SUCCESS. With random direction and random duration this will keep your guests on their toes and either work up an appetite or burn off a few of those pudding calories.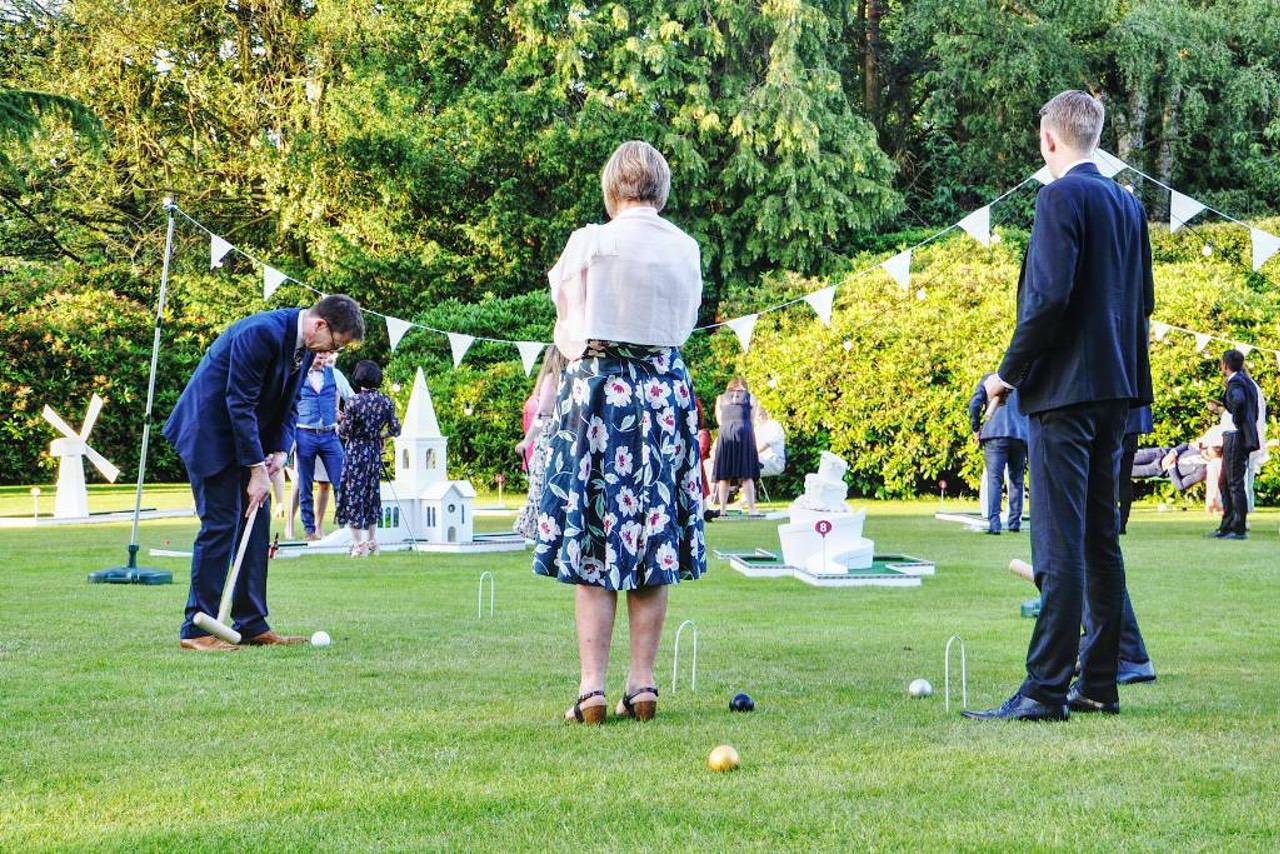 Who doesn't love croquet? Good question indeed. In fact we'd never played croquet until we added it to our garden entertainments package and now we LOVE IT! Don't be put off by the rules of Association croquet or even Golf croquet because we play Crazy Croquet (garden / back yard rules)!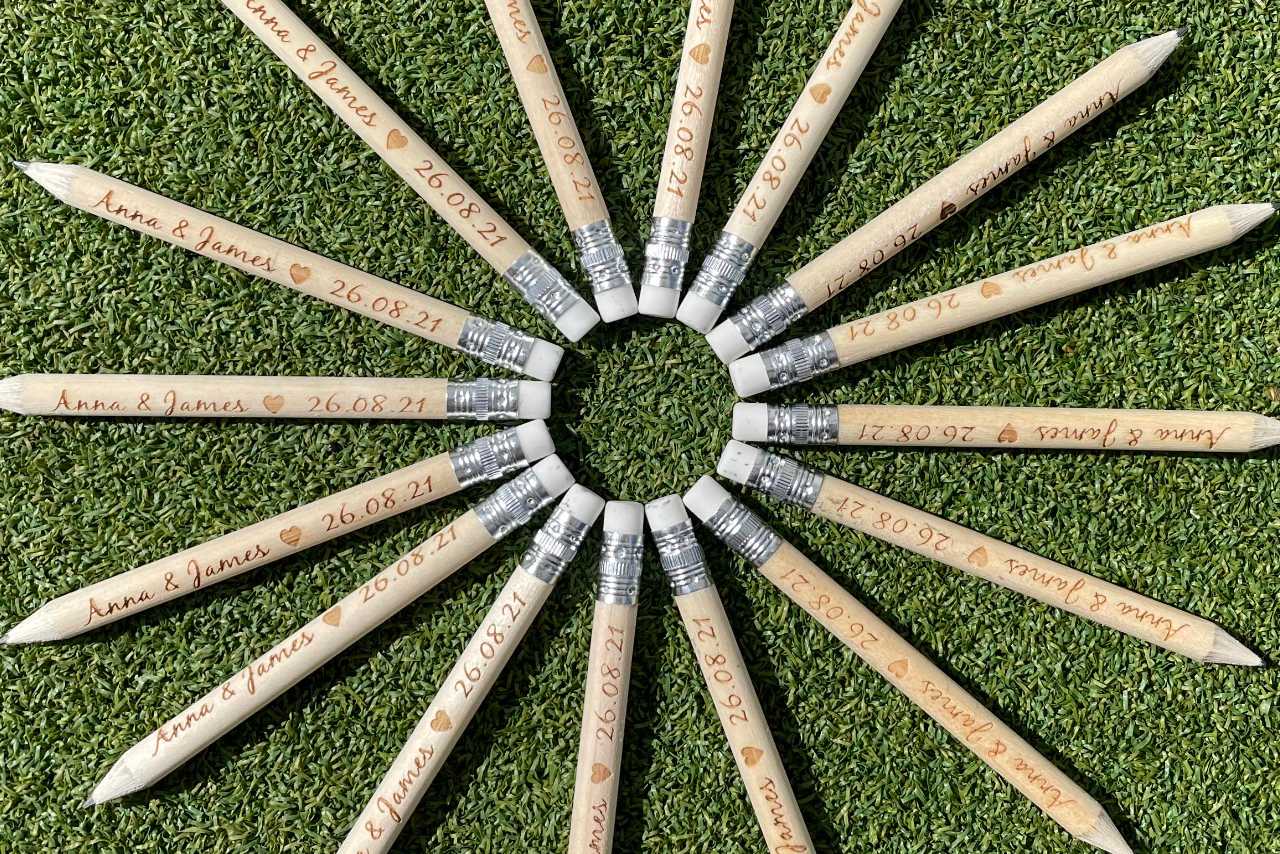 £35
Laser Engraved Golf Pencils
Laser engraved score card pencils are the perfect accompaniment to our Bespoke Score Cards. We'll supply 50 pencils engraved with your names and the date of the event (40 characters or less including spaces).
If you've already got the leader board as part of your package (or added it from the à la golf carte menu) then why not get a trophy to give to the person/team with the best score. We'll engrave it with up to 30 characters (including spaces). The cup shown above reads "Taylor-Harte Cup 29/08/2021". The trophy cup is metal, the stem is plastic and the base is made from marble.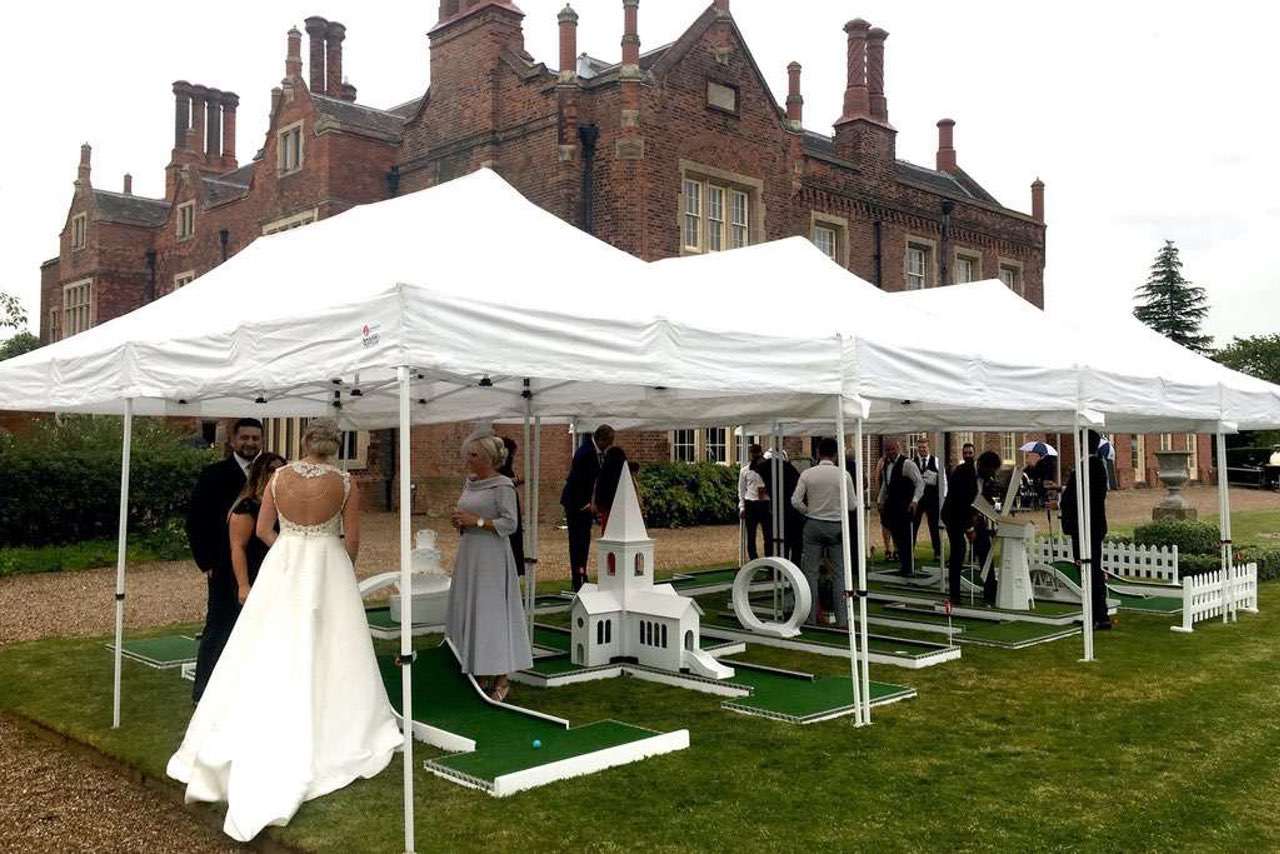 £150 – £200
Pop-Up Gazebo Hire
Whether it's raining or baking hot sunshine, we've got you covered! We carry four pop-up gazebos each measuring 3m x 6m (6m x 12m total) that can be hired on the day for £150 to cover the course. For an additional £50 we will provide side panels to make the space completely enclosed (necessary if there is driving rain or the ambient temperature is cold).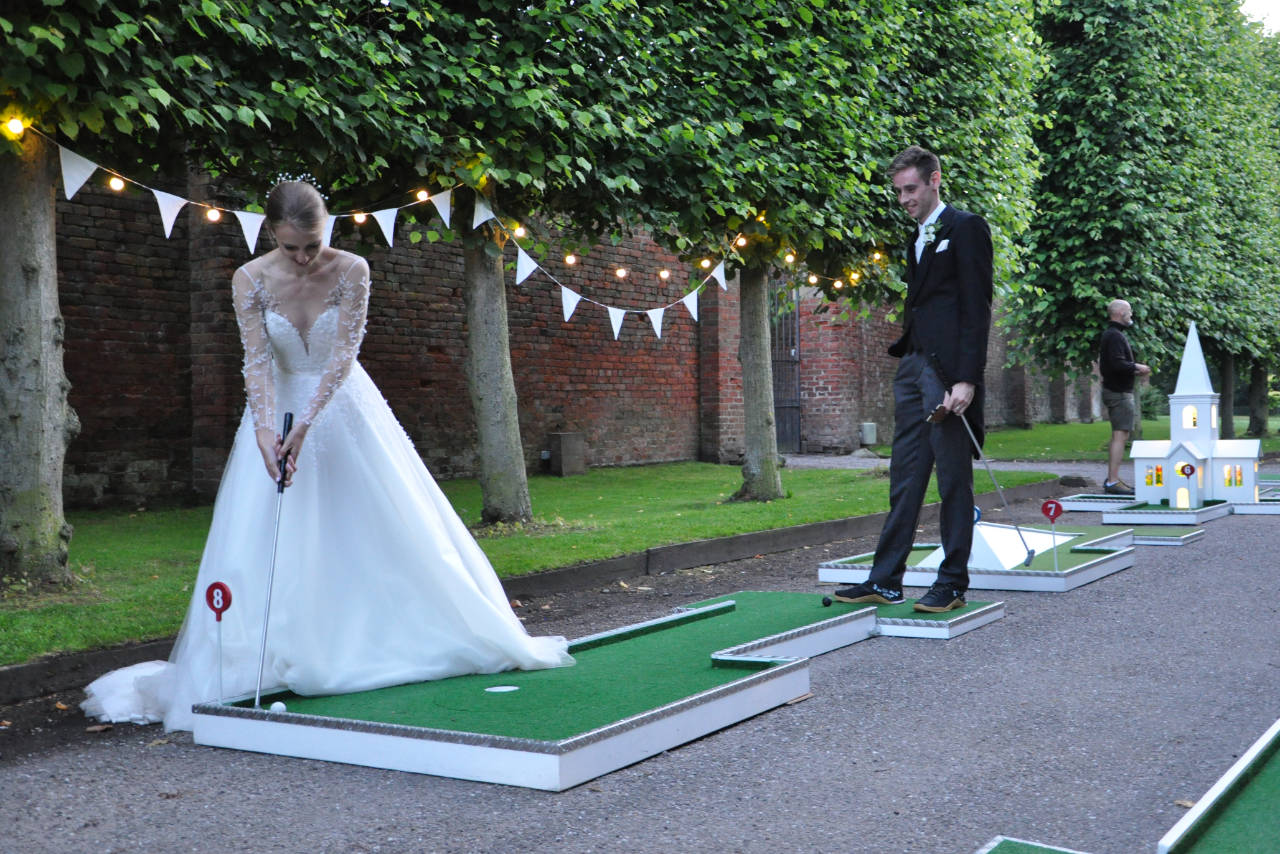 Up to 36 metres (approx) of white bunting hand made by Pete's Mum! Each triangle (or tammy) is made from a selection of textured and patterned cotton/satin fabrics. The bunting looks great in surrounding bushes/trees, supported by poles that we carry with us or around the edge of the gazebos if the weather is inclement (it also looks great combined with the festoon lights).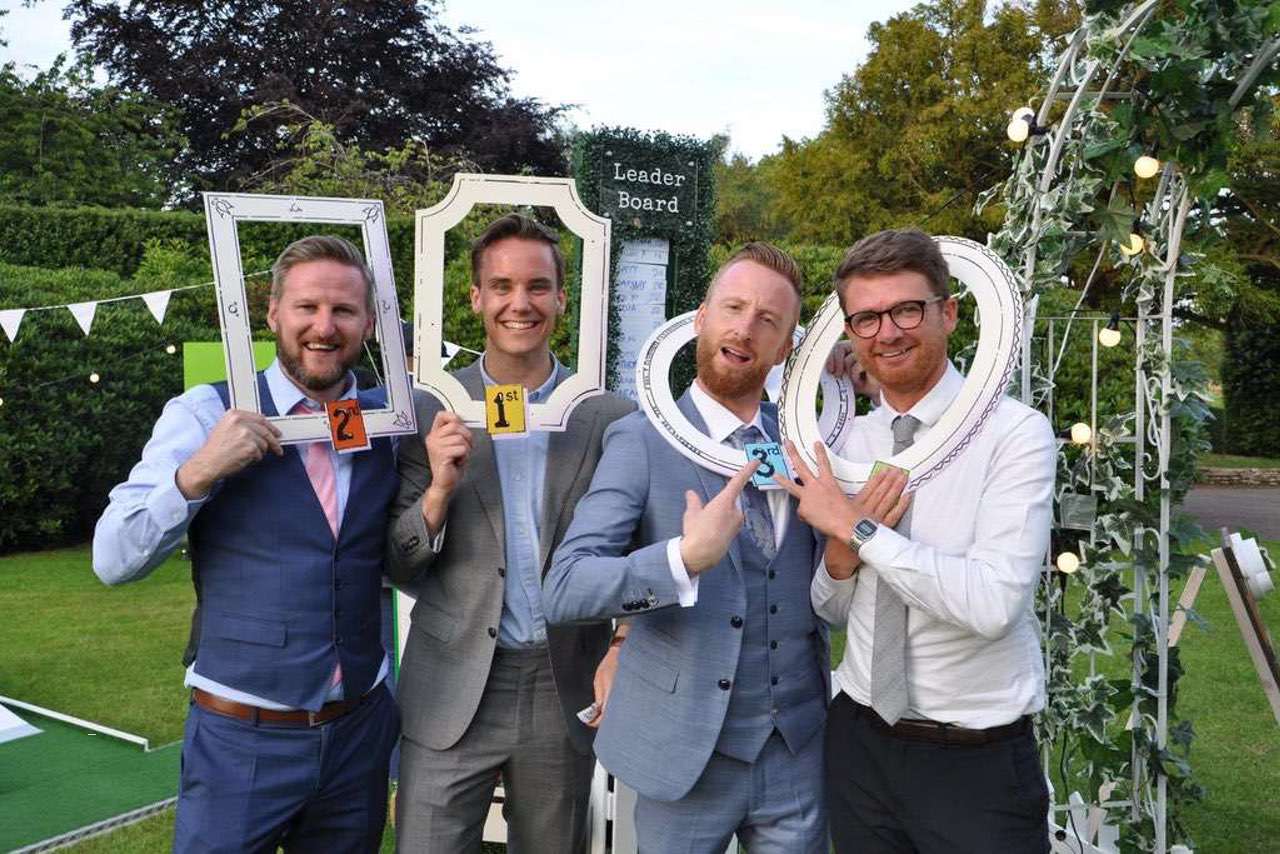 £15
Finish Line Photo Frames
Whether it's luck (most probably) or pure skill, there's always the winner, the runners up and the loser. ;-). Great photo opportunity at your wedding or team building event.