Crazy9 Wins Wedding Awards! We can't tell you how thrilled we are to announce that Crazy9 Mobile Crazy Golf has WON the County Brides North West Wedding Awards for Best Entertainment (Non-Musical).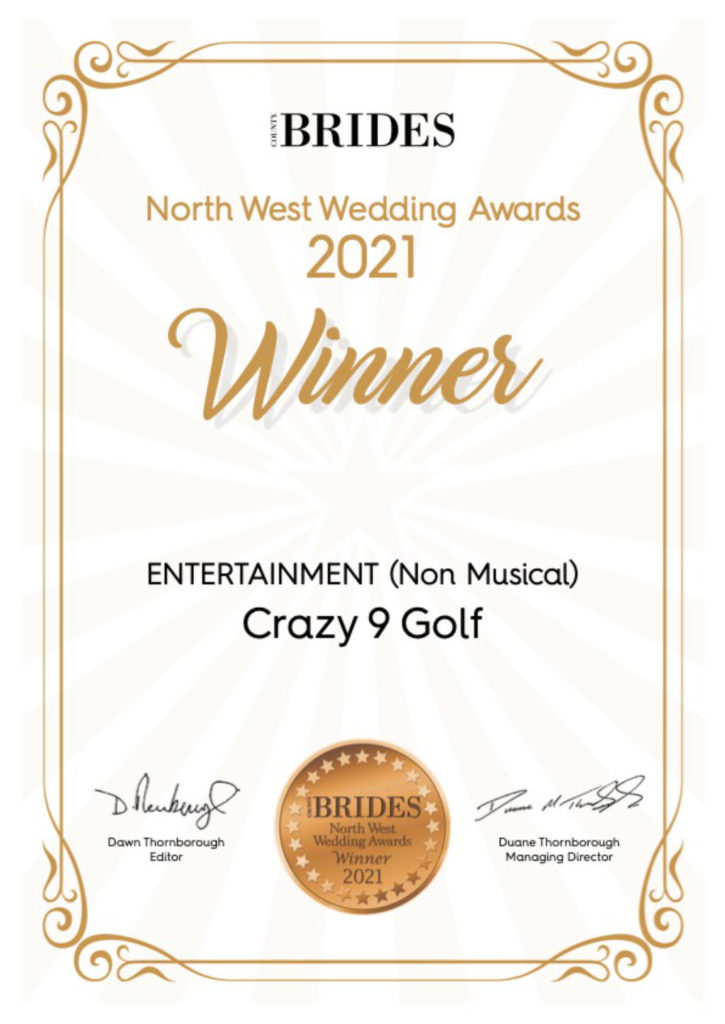 Every year, County Brides pays special recognition to wedding suppliers across the North West of England who go the extra mile to ensure their brides & grooms have a wedding day they'll never forget. The annual wedding awards are voted for by brides and grooms who've had outstanding experiences with their suppliers.
Duane and Dawn from County brides go that extra mile themselves to validate each vote and put a 'weight' against the feedback each bride and groom give for their nominated suppliers.
Over 12,000 votes were counted, more than 2,400 companies were nominated and 284 finalists were narrowed down to 32 winners on the night! A staggering £7000 was also raised for their chosen charity Destination Florida Children's Charity.
It was fab catching up with the guys from Wrenbury Hall, Dave Thompson Wedding Photographer and the Jolly Good Photo Company (congratulation on your award too). It was also great to meet fellow award winning florists, Country Flowers (who were seated at our table).
A Huge THANK YOU to our wonderful Brides & Grooms
Of course we couldn't have won the award without the support and recognition given by our wonderful brides and grooms that took the time to vote for us. We can't tell you how much it means to us; thank you, thank you, thank you from the bottom of our hearts.
Why this Award means so much to us
When we started building the course in 2018 our vision was to become the best mobile crazy golf course for wedding and corporate events; not only in the UK but in the World haha! We've put our hearts and souls into creating a business that we're really proud of. We launched Crazy9 at the beginning of 2019 and had an amazing first year.
Like so many other small businesses within the wedding industry we were hit hard by the lockdown restrictions imposed by COVID-19. We worked relentlessly with the brides and grooms to try and postpone as many weddings as we could. There was always a feeling of delight when the requested postponement date was available and remorse when the requested date had already been booked. It was definitely an emotional rollercoaster.
2021 has been a year of catching up; with friend, family and of course with work. Since our first wedding of the year in late May at the Old Course Hotel at St. Andrews, Scotland, it's been a non-stop wedding fest. I'm not quite sure how we pulled it off (a lot of sleepless nights travelling between venues and copious amounts of coffee)!
Receiving the wedding awards for Best Entertainment (Non-Musical) means everything to us. It means our hard work and commitment in ensuring brides and grooms (and their guests) have a wonderful day, has paid off.