The new Wedding Themed Mobile Crazy Golf promo video has just been released in time for the Festival Events & Planning #armchairweddingfair.
Our Wedding Themed 9 hole Mobile Crazy Golf is a new and exciting addition to the wedding entertainment scene. Hand built and hosted by Messrs Garrett & Butler who have an eye for detail, a passion for entertaining and a love of crazy golf. We offer unique, fun and stylish alternative wedding entertainment that will keep your guests of all ages entertained whilst you have your wedding photographs taken and through into the evening.
Why choose mobile Crazy Golf for your wedding?
We all know that that wedding are getting longer and longer, and keeping your guest entertained during those lulls is a key part to a successful wedding.
Crazy Golf ticks all the boxes, it's fun, it's entertaining, it's good for all ages (plus who doesn't LOVE Crazy Golf).
We set up the course before all your guests arrive and keep your guest entertained during the drinks reception, stay with the course during the wedding breakfast and then resume play after the wedding breakfast until 8pm (usually the time of the first dance).
We have two packages, The 'Wedding' and the 'Wedding PLUS'. In each package we have a mixture of standard holes and 'Signature' holes. Our current range of Signature holes include 'Marri-Ann', an elaborate wedding cake with flowing ribbon ramps 'Charlotte', a church that has bells that rings and illuminated stained glass windows, 'Crazy Susan', a frustrating, rotating turntable, 'Prior Engagement', a diamond encrusted loop-the-loop ring, our must-have windmill called 'Windy Miller', our very own White Castle with fanfares and our Manchester Hive, complete with dancing gold bees.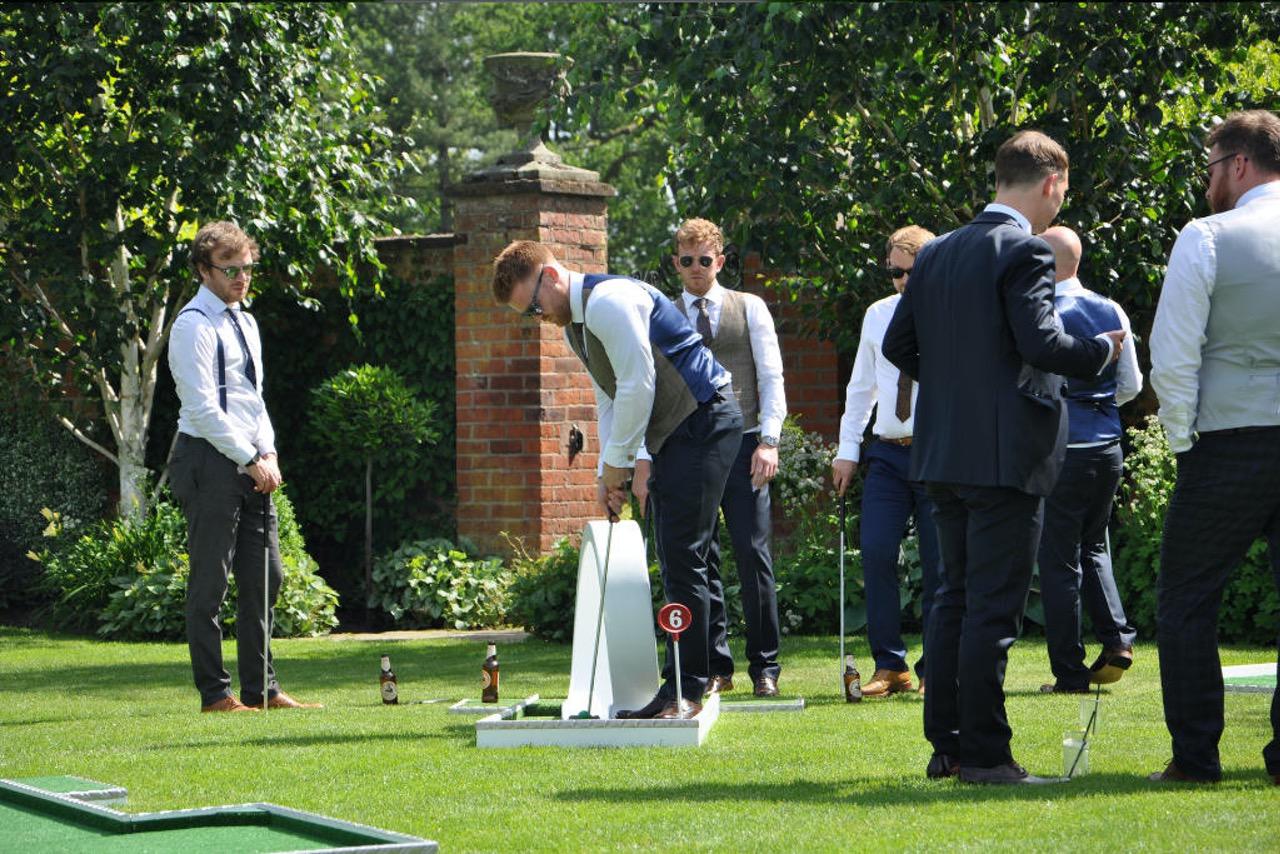 What do the portable mini golf packages include?
The 'Wedding' package is the 9 hole course with three signature holes of your choice and 6 standard holes. It comes with an ivy covered wrought-iron arch, white picket fences and our standard welcome board. We host the course for the day wearing our vintage golfing outfits.
The Wedding PLUS package is the 9 hole course but with 5 signature holes of your choice and 4 standard holes. It also comes with the arch and picket fences, leader board, Bespoke Score Cards with your names and wedding date, welcome board with your names printed on it welcoming people to play on the course. It also comes with silver and gold glitter balls in addition to our standard balls.
The wedding PLUS package also includes a selection of garden games, including:- 'Crazy Ping-Pong', a revolving round table tennis table, 'Cornhole', an American beanbag throwing game, 'Crazy Croquet' and Giant 'Jenga' style building blocks.
Don't just take our word for it though, have a look on Facebook and Google and look at the reviews we've received.